Testimonials
* Wire Name Jewelry *
Thank you for you interest in me and how I create my wire art! I always welcome personal e-mail, so if you'd like to drop a note, send it to jewelry@wirename.com.
---
---
I received the necklaces and they are GORGEOUS! I'd planned the initial in silver to contrast with the necklace, but I've found I really prefer them in gold. It's a very subtle look and accents the leaves wonderfully. I cannot wait to give them to my sister and sister-in-law as wedding gifts. I really appreciate that you were willing to do something different from your usual work and think you did a fantastic job. I'm forever grateful that you were able to complete my vision for the necklace when none of my local jewelers would touch the project. Thank you so much; I've e-mailed your website to everyone I know and recommended your work. I've also posted a link to your site on our wedding website, www.dederer-romano.com, and encouraged my family and friends to visit your site. Thanks again, Mario; you're wonderful!
Allison

---

Wow (and that word barely covers my reaction). I just received the pin I had ordered from you for my mother. Stunning and far more than I could have hoped for.
I stumbled across your jewelry on a web search. Years ago I had purchased a pin for Mom with the birthstones of all of her children. Unfortunately, it was lost and she was very upset. It was rather unique and I had never found anything like it. When I found your jewelry pictures, I knew they were special. I could see the fine workmanship and the absolutely wonderful script you use. (I honestly believed you used some machinery because it was so precise.)
I ordered the piece for Mother's Day knowing I was far too late for it to arrive on time. I had printed out a picture to show her as a precaution. So I was even more surprised when I got the message the next day that it had shipped. And here it is, already arrived and in ample time for me to give it to her on Mother's Day.
So I was impressed before I even opened the package. Then to actually see the pin... Stunning and far more than I expected. To see the workmanship up close - amazing. I went to your website in the hopes that I could contact you to explain how wonderful the pin is, and how happy I am that I accidentally stumbled on your workmanship. Then I read a little more on your site. (I had purchased it through a secondary vendor site - not your own website.)
I read how you actually create each piece "free-form" without templates or jigs. So now, I just shake my head in admiration even more. You are truly a wonderful, talented artist. I will tell my mother about your work because I know that others will comment on this incredible piece.
Thank-you again for such a pleasant set of surprises. Thanks, Deb N.

---

Thank you soooooooooooo much! My daughter's 16th birthday is today, that's why I spent extra to get it overnight and thank you for getting the beautiful necklace to me the next day following order. Otherwise your prices are VERY reasonable for such a nice, personalized item. I had my name as a pin when I was 16 from a flea market back in 1987! I didn't know where to get this kind of thing these days. It's great that you make items like this,especially when we have unique names. I plan on making another order soon. Good luck with your business!
N. A.

---

The necklace in Russian Cyrillic script is beautiful, it's exactly what I wanted. I have enjoyed wearing it very much!
Aleksandra, United Kingdom


---

Wonderful!!!! Thank you very much, Mario. I appreciate how quickly you sent it. It is perfect - so beautiful. Many, many thanks! -A Very Pleased Customer,
Anna B.

---

I would like to thank you, when ordering this necklace I had no idea what is was going to look like, I am very glad that you sent a picture and would like to thank you the necklace is beautiful and I know that when it gets here my wife will love it, it is my present to her for our first year annivesary.
Thank you again,
Simply Beautiful Blake


---

Thank you, Mario! I'm really looking forward to receiving the necklace I ordered - I'm sure it will be exquisite, as are all the samples I saw of your work on your website. And I already have recommended your work to several of my friends and co-workers. You're very talented, and I was impressed that when I called to inquire about the status of my order, you answered the phone yourself, and was very helpful and polite. I know for certain that I'm going to want more of your work as gifts for friends, and even for myself... and I NEVER purchase jewelry for myself!
I also enjoyed very much your comments about how you began the business, and especially the essay you posted from Chief Seattle, who has always been a hero of mine. Your philosophy makes your work even more special to me. Many thanks --
Good wishes to you and to your family.
-- Sydnee C.

---

Mario,
I want to thank you for such beautiful art, and the wonderful serendipity of finding you. Someone recently shared a story about "Funkdog" with me, an animal plagued by neglect and abandonment, desperate for human contact, even if that human contact was via a stick. It had mange and sores, but lived off of the small gestures of being scratched by a stick by those that had 'adopted' the him. It touched me so deeply I wanted always to remember the sad beauty behind it.
Since I'm not one to get a tatoo, I decided I wanted to make a necklace that I can wear as a constant reminder. And then I found you, and after reading your inspiration story from Chief Seattle, I knew it was the answer I was looking for. So thank you! I have Funkdog with me everyday!
Nancy J

---

I just received my Wire Name necklace.  It is wonderful. 
It's more than a necklace; it's piece of artwork my niece will treasure for years to come.  You are truly gifted and I hope you continue to share your talent with the world.  Thank you so much.
Best regards,
Jennifer Dean

---

Hi Mario, I just wanted you to know that I have received the Dove Pendant and I absolutely love it. It is just beautiful and so very unique. All of my girlfriends are asking where I purchased it and I will be sure to recommend your website to everyone.
Best regards, Mary S.

---

WOW! Thank you so much! The bracelet looks FANTASTIC!!! You are going to make my grandmothers birthday so very special! I will help spread the word about your awesome website by posting WireName.com up on my Facebook and telling all my friends about it!!! Excellent Work!
Thank you again,
Kimberly

---

I received my necklace today--it came through the snowstorm to brighten my day. Thank you for making such a beautiful necklace. I love it. I will certainly recommend you to everyone I can. I did not know that this type of jewelry was still being made. I have a family heirloom pin and now my necklace is like a link to that pin.

By the way, I found your website address in my newspaper, the Philadelphia Inquirer. Did you know that they were featuring you? They chose your site for their internet shopping feature entitled The Cart. I have emailed them and let them know how happy I was to find your site and how satisfied and happy I am with my necklace.
Carol S

---

I received my beautiful Thornapple pendant today!! I love it! Thank you so much for making the apple part of the name, it looks super! Your penmanship (or is it wiremanship?) is very elegant and easy to read.
I actually purchased this item for a birthday present - I knew when I ordered it I'll be wanting one for myself. Now that I have it in my possession - I KNOW I want one for myself! You'll be hearing from me again real soon!!
Thank you for this very special & gorgeous pendant,
Amy G.
Michigan

---

I received my anklet today. Thank you very much I really love it. It is original and I've never seen anyone w/anything like it before.
Also, the price is awesome and makes the purchase even more enticeing.
Tiffany

---

I wanted to say a very special "THANK YOU" for the beautiful necklace. You did such an amazing job. The pictures on your web site do absolutely no justice for your artwork. I opened the package and was in awe.. the necklace is so much more than I thought it was going to be. My mother-in-law is going to love her necklace. Although I did order an extra jewel ;) Thank you for the fast shipping as well. It got here faster than I thought it would. So thank you, thank you, thank you and thank you! I will definitely order more wire names in the future and tell everyone about your artwork. THANK YOU!
Kristianne L

---

Dear Judy,
I got an email from a woman who ordered a personalized necklace and said she was so happy with a wirename necklace, with wirename.com service, etc. I placed an order for four wire name necklaces December 3th.  When I checked the status of my order (December 6th) I was shocked and pleased to discover my order had been shipped the following day after the order was placed.  I never expected, due to the upcoming holiday, the order to actually be processed, jewelry created and order shipped in one day.
Three of the necklaces were Christmas presents and the fourth was for me.  I thoroughly enjoy mine and have received numerous compliments on it. The remaining three went to an 18, 15 and 12 year old.  All three loved them as much as I did. Mario's creations are a work of art - not merely a piece of jewelry!
Please visit his website at wirename.com
Sincerely,
Amanda W. Fashion Breakfast - an extremely satisfied customer

---

Rich gave me my beautiful necklace on Christmas morning. It is extraordinary. I can't thank you enough. I wore it on Christmas and had so many compliments on it. You do such exceptional work. I am soooooo pleased with it. Thank you Thank you Thank you!!!! I hope you and your family had a wonderful Christmas.
Sincerely,
Nila

---

We exchanged gifts today & they were thrilled to receive such beautiful necklaces! With their names being so unusual, this is the only way they would have been able to get anything with their name on it. You can be sure I will spread the good word about the fantastic work you do along with how quickly you do it!!
Merry Christmas & a Happy & Prosperous New Year to you and your loved ones!
Sincerely,
Loretta

---

Received today 12/15 and my daughter just loves your workmanship. This is a gift for her best girlfriend for Christmas. Thank you so much for your quick service. We will definitely show it around to all the girls and make sure they all have your website on hand. Happy Holidays to you.
The Sobo family

---

I just wanted to let you know that I received my necklaces on Friday, just 3 days after I ordered them, and they are absolutely beautiful! I got one for myself and one to give my sister as a Christmas gift. I will definitely recommend you and your web site to my family and friends and I am certain that I will be placing more orders in the future. You are truly a talented artist and I wish you the best of luck with your business.
Sincerely,
Stacey L.

---

I have looked at many wire name jewelry sites, and yours is by far the best so far.
You did GREAT work and I really appreciate it.
I am in Massachusetts, and no one here has seen this art.
Thanks,
Jeannie S

---

WOW! This is gorgeous! I just opened the picture -- but, better yet, the pin arrived today (Monday!) and it is truly beautiful.
Mario -- I can't thank you enough for the wonderful jewelry and the fabulous service! I will certainly recommend you far and wide!
Yours truly, Sana F.

---

I received my necklace about two days ago. I LOVE it! It is so perfect. I hope you took a picture of it for your website or portfolio.
I got your web address from doing a Google search for wire name jewelry. I saw a necklace in Marie Claire magazine for Nov or Dec.and I wanted one. However, your necklace is so much better and prettier than the one in the magazine.
Thanks again!
Kelly T.
Brandon, MS

---

Thank you so much for the custom cross necklaces. They are just what I was looking for and will make the perfect gift for the girls.
Also I want to thank you for the wonderful necklace you made for me for a gift that went over seas. She loved the necklace.
Thanks again.
Annie Y.

---

The order arrived today!!
I could not be more pleased with the Spike pin! It looked great in the photo and even better in "person" (as it were!) The bracelets are also lovely and perfect!
Thank you very very much!
It was a pleasure doing business with you.
Very kind regards,
Maria

---

Got my package today - fast!
The necklaces are gorgeous - even prettier than the photos are able to show on the website. I can't wait to give them to my nieces - they're going to be thrilled.
Nice job on your website - lots of photos make it great for seeing every possibility to get an idea of what you want to order. I wish you much success.
Debbie G

---

Thank you so much for your efficiency and the beautiful necklace. I ordered it on a Monday for my daughter's 12th birthday on that following Saturday and received it that Thursday.
It is so beautiful and she absolutely loved it. She has told me every day how much she loves it. I would highly recommend your jewelry!
Grateful in Texas!

---

I received the necklaces for Shannon and Alisha they are beautiful! Thankyou for the extra star and bead you put on Shannons necklace I am sure she is going to love it. I am sending it out to her today.
I think what you said about giving the necklaces to the sick children in the hospital next to you is such a wonderful and giving idea I hope you can make that happen. It will bring them great joy and hope, something many of them do not have.
Thankyou for your buisness I will be passing it on to my friends and relatives. Shelly Sheeler :)

---

The two necklaces 'Katie' and 'Claire' (gold bar with Heart at the end) arrived today and I gave them to my colleague at work.
She is absolutely delighted and asked me to pass on her many, many thanks for such beautiful work and for making & shipping them so quickly. I have two nieces who have birthdays early in the New Year so I will order more soon.
Thank you for all your effort in getting them over to the UK in time for Christmas.
Kind Regards
Alison

---

I LOVED THE NAME NECKLACES I ORDERED.... THEY CAME YESTERDAY. I REALLY APPRECIATE YOUR PROMPTNESS IN DELIVERY. I THINK THEY ARE UNIQUE AND BEAUTIFUL, I WANTED SOMTHING DIFFRENT FOR MY DAUGHTER AND NEICE AND THESE FIT THE BILL... MERRY CHRISTMAS!!
MELISSA

---

I know I called to tell you how excited I was to receive the beautiful anklets, but I wanted everyone else to know how much I appreciate your work.  I can't wait until Christmas to give them out! 
I had been looking on line at various jewelers who offered personalized jewelry, but wasn't particularly happy with the prices.  What struck me about your site was the affordable pricing and the fact that all the pieces are hand made by you.  Your work is awesome, and I will be purchasing more from you.  Thank you, once again!
  Robyn in Ohio

---

Thank you for your super quick delivery. The necklace arrived yesterday,and it is just perfect!
The girl who is receiving it will love it! Thanks for your efforts to get it to me quickly and I appreciate the photo you sent too, that was very nice. I will definitely recommend you to everyone.
Happy Halloween--
Loran

---

Just to let you know the 'Lenny' necklace arrived yesterday. It is really beautiful - thank you so much.
I am absolutely delighted with the whole transaction. I couldn't believe how quickly you made the necklace. I ordered it on the one day and you emailed me to say it was in the post within 24 hours!!
Even with me living in the UK it only took 5 days to get here and that included a weekend!
I will certainly be ordering some more necklaces from you for my nieces. Thank you again for a super transaction. These days it is not often that I am so pleased with a purchase, it is lovely to have been really, really delighted.
Thank you very much,
Kind regards,
Alison

---

Just a wee note of thanks, for the necklace I received today. I am delighted with the wire name necklace you a made. It is very well made and looks fantastic.
The Item was packed superbly and shipped to me in Scotland, and has arrived in time to give my daughter at Xmas.
Many thanks
Frank ( Scotland UK )

---

I wanted to let you know that I received the package today and wanted to also thank you so much for the beautiful wire name necklace. I absolutely love it and will wear it often. I was happy to find your site and learn that my name could be made as I have a very hard time finding a name product with my spelling.
I was amazed at how fast the item was made and delivered in 3 days!!!! I will definitely recommend your website to friends and family and will be the first place I come to for future gifts or a personal treat. Your work is amazing and I'm sure I'll be passing on your website once people see your creation.
Thanks again :)
Erika M

---

I recieved my order today and was so Happy with them. I couldn't believe how fast I got them. You do amazing work. My girlfriend actually told me about your website and I will for sure tell all my friends and coworkers. I will order more items in the near future. God Bless and take care.
-Jennifer V

---

I cannot begin to tell you just how awesome I think your jewlery is!! Not to mention the fact that you took the time to call me to confirm a mix up in the birthstones.
You delivered as promised on time when I was in a pinch! The recipients were so pleased and thrilled to have something that was personalized. I will definitely use your site again and again and I will tell all of my family and frinds as well!!
Sincerely,
Bonnie G

---

I placed an order (order # 132-82-7609) for four wire name necklaces November 22nd, two days prior to Thanksgiving.  When I checked the status of my order (November 29th) I was shocked and pleased to discover my order had been shipped the following day after the order was placed.  I never expected, due to the upcoming holiday, the order to actually be processed, jewelry created and order shipped in one day.
  Three of the necklaces were Christmas presents and the fourth was for me.  I thoroughly enjoy mine and have received numerous compliments on it (as well as given your website information out).  The remaining three went to an 18, 15 and 12 year old.  All three loved them as much as I did.  I originally planned on wearing mine occasionally but have worn it (literally) every day since I received it - I love it that much!  Your creations are a work of art - not merely a piece of jewelry!
  Everything about this transaction exceeded my expectations.
  I wish for you continued success and prosperity in the new year.
  Thank you from an extremely satisfied customer,
  Shawna W

---

The look absalutely fabulous, just perfect. These will make two little girls very happy, and just in time for x-mas, thank you so much for the quick turn around! I've already began telling all my freinds and co-workers about your work!
Thanks!
CAROLYN M
EAST BOSTON, MN

---

I just wanted to let you know that my silver "Nana" pin arrived today! I just had to write and tell you that your craftsmanship is extraordinary.
The wire name is easy to read and the crystals really add a special touch. I know my grandmother will cherish this beautiful piece of art. Thanks so very much again for the wonderful product.
My very best to your family,
April M

---

Just a quick email to say that i've received the necklaces i ordered, and everyone is really happy with them, and i will be ordering more in the future. I was also impressed with how quickly we received them (in Autsralia).
Thank you,
Miranda B

---

Hello Mario, I received the pin today. It's beautiful my friend is going to cry when she opens it on Christmas morning. I will be placing another order soon in the future and will be bringing the pin to work and show it off to my friends and fellow workers.
Again you do beautiful work. Thank you for the fast service.
Sincerely Wendy P

---

Thank you so much for the two "Tammy" necklaces. They are absolutely perfect!! Thanks also for getting them done on such a tight schedule.
They will be going on some puppets in a world-premiere production from China that will be traveling all over the U.S. I greatly appreciate you checking in with me to make sure that the necklaces were made exactly to order. The pink stones are exactly the right color.
Thanks again,
Shannin S.
Seattle Repertory Theatre

---

The "D" pins looked great and the BRIDE was SO happy. It really did mean alot to her....
Thanks for your help and getting them to us SO fast. We will keep you in mind for other events we may need.
Best Wishes,
Chandra D.
Hitching Post Photography
Weddings Inc.


---

I just wanted to drop you a note to thank you. The items are you have created for me are beautiful! I can't stop myself from bragging about them. I don't know if i can wait til my daughter's birthday to give her the one you made for her.. :)
You will definetly be hearing from me again!
Thanks!
Merci


---

This is the second time I have used your company and the work is great. I just found my receipt from when I ordered "Nicole" several years ago and was so happy to find you again. I will let others know of your great work. Thanks.

---

I know! I got them already! (On Tuesday) I couldn't believe how fast! The Atreyu one was for my niece's birthday (which was that same Tuesday) and she LOVED it. They were really, really pretty. Thanks so much for doing them so quickly and beautifully. I already tell everyone that asks about mine (the gold "I Believe") and I will probably be ordering more too. Thanks again!
Lynn

---

Is that the actual picture of the necklace being sent to my sister? It's lovely. I must say that I have viewed many Name Necklaces and I feel that yours are better than any out there. They are original and I love how you can add things to them like that.
I'm sure I will be purchasing more in the future. Thank you so much!
-Amanda

---

I received the order today. Thank you! I really like the choker.
I have been very impressed with the order from you. I have to say I was abit leary ordering something over the internet without knowing anything about your business.
I found you to be very prompt in getting the merchandise to me. Very impressed with your pricing and quality of your work.
Totally impressed the experience. I would definately recommend you to my friends!
Sally
Thank you again.


---

I received my necklace (order 122-94-5228) this afternoon. It is absolutely beautiful! The pictures on your website do not even come close to reflecting the actual beauty of each peice. I have seen many versions of the wire name necklace, but your craftsmanship far exceeds the others. It is absolutely amazing how uniform and precise each letter is! There is no difficulty in reading the script, and the gold is brilliant!
Thank you so much! I will definately be recomending you to many of my friends! I look forward to doing much business with you in the future!
Thanks again!
Maria

---

I received the necklace of Valerie and was so very impressed and over-whelming satisfied,as was my 10 year old niece. Your work was absolutely beautiful. I will definetly be ordering again. Thank You So Very Much.
Sincerely, Maryann C

---

I received the Jolly Spider business name necklace you made for me today, and I just wanted to extend my deepest gratitude. It's absolutely lovely -- so delicate and expensive-looking -- and I'll be as proud as I can be to wear it and show it off!! You do marvelous, intricate work, and of course, I'll be glad to refer you to my circle of friends, family, and even mere acquaintances.
Thanks again for such an excellent job -- and for getting it here in good condition and so FAST!!
Debbie P

---

I appreciate the quick turnaround! This is the third necklace that I've ordered from you since I was so pleased with the ones I received last week. Thank you, Thank you, Thank you
Paula

---

Just a note to tell you how pleased I was with my purchase and transaction. I appreciated you letting me know that my purchase had been sent out and a picture of the necklace. When I received the necklace today, I was so pleased. It's just beautiful and I can't believe how quick you got it to me. I showed it to someone in my office and they will be ordering in the near future.
Debi

---

You did an amazing job on this! It completely put a smile on my daughter's face. We ordered it for her friend - it's the name of the horse she used to ride. And trust me, your quality will be advertised well. My daughter now wants three for herself, I believe we'll also be ordering one for my son. The kids all wear them on their sweaters and jackets so all the other kids will see them in the organization they belong to and everyone will start wanting one for their jackets and sweaters. They usually wait for someone to come to the Stock Show in Denver to get them done and they are not nearly as nice as yours so we honestly can't wait to share with the everyone else.
Thank you again!
Julie

---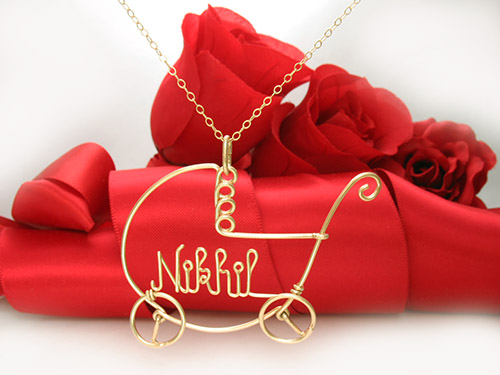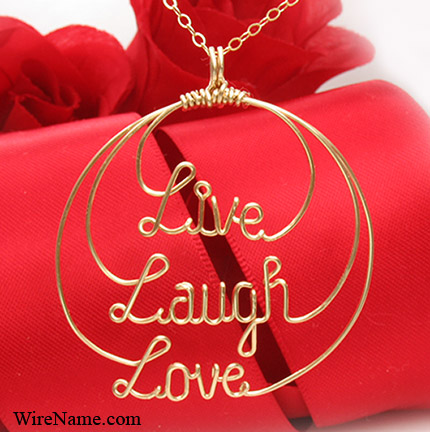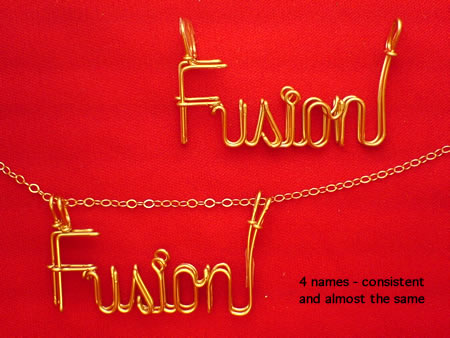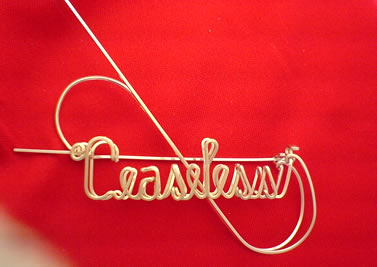 What Customers Say About Wire Name Jewelry
(More Testimonials)
(Read More Testimonials)